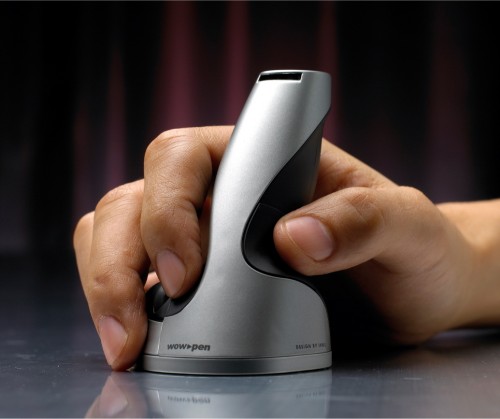 WOW TECH has a newer version of their ergonomically designed Wow-Pen mouse coming to the U.S. later this month called the Wow-Pen Traveler. The Traveler, like the "eco", has a unique design that lets you hold it more comfortably like a pen to put less strain on your wrist and arm according the company. But this mouse also packs a few more nice features into is odd-looking design.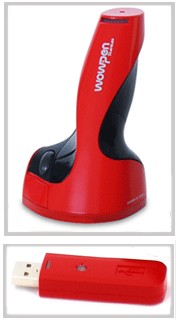 The Wow-Pen Traveler is wireless with rechargeable batteries and comes in either an RF version (Traveler RF) with a USB receiver or a Bluetooth version (Traveler T). Aside from the connection both versions work the same and house the same features except the RF model's receiver can double as a flash drive holding up to 1GB.
Aside from normal pointing functions the Traveler also houses a laser pointer and comes in four colors of silver, white, blue or red. Also, the exterior is embedded with a Silver Nano antibacterial coating to help keep the device from getting scummy after hours and hours of use.
The Wow-Pen Traveler is compatible with Mac's and PC's and currently retails for £58.99 (about $108). It will be presented to the U.S. market next week at the 1st IT Channel USA Conference in New Jersey.
Ergonomic, mouse, Wow-Pen, Wow-Pen Traveler