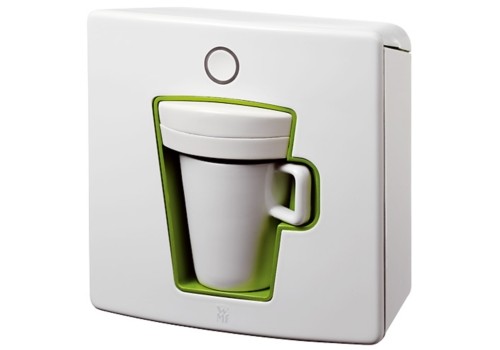 The WMF 1 Coffee Pad is able to brew a single cup of coffee with a simple press of the only button on the machine. It comes with it's own cup that integrates snuggly into the design and the tray is filled with a standard-sized coffee pad. Within a minute of pressing the button it will deliver a single freshly brewed cup.
There are of course a number of products on the market that can brew a single cup of coffee, or even two at a time but we've seen few that can match the simplistic style of the WMF 1. The coffee machine has even won a red dot award for its design at the Design Center of North Rhine-Westphalia this year.
The WMF 1 Coffee Pad goes for about for 139 Euros (about $198) and is currently only available in Europe (compatible with their 220-volt power outlets) and comes in colors of green, yellow, red and gray.

WMF 1 Cofee Pad Machine via Technabob