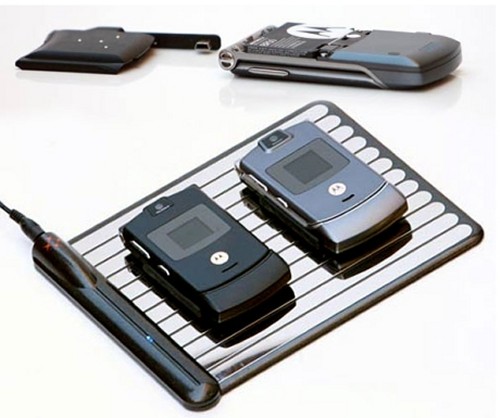 The WildCharge wireless charging pad that we heard about back in June is finally available for purchase. The charge pad uses a custom induction strip attachment that hooks on to your phone (or potentially other devices) and lets you charge it wirelessly by simply setting the device on the WildCharge charge pad.
The idea is great and was met with a lot of enthusiasm from the gadget community when announced, but its taken a while to get here. Shortly after the initial launch announcement of July 7, the company came out with news of pre-orders and then some pricing and a delay.
Now on the WildCharge site the company has gotten things going and is offering the wireless charging pad bundled with the induction adapter for the RAZR phones (without MP3 players) for $89.99. Obviously this is great if you still have a RAZR, but hopefully this will be followed up for some more current phones. The iPhone for example might be a good one as CrunchGear had smartly suggested.