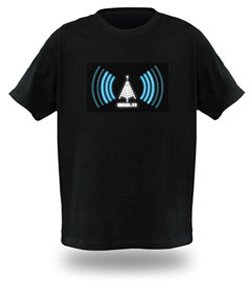 If you like being the center of attention, and absolutely need to know when you are in a hot spot, then the Wi-Fi detector shirt is for you. It displays the current wi-fi signal strength on your chest, thanks to a battery pack hidden in a small pocket within the Shirt.
The glowing bars on the front change as the wi-fi signal strength fluctuates. Sure, it won't win you any friends, but you will be part of a growing network of shirt wearers that provide a valuable public service to the rest of us as we pass you by, with our devices.
The animated decal is removable so you can wash the shirt easily and not create your own B.O. signal strength. It will display signal strength for 802.11b or 802.11g and they say that it will run for several hours using 3 AAA batteries. It will cost you $29.99.
[Product Page] VIA [Boing Boing Gadgets]