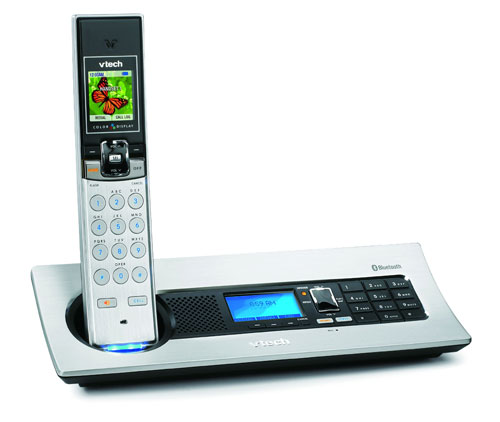 VTech today unveiled a hip-looking landline phone system which can also take and receive cellular calls via Bluetooth. The new LS5145 is priced at around $150.
The VTech LS5145 has a self-described "ultra-modern" design. This cordless phone system, expandable up to 12 handsets, functions in the 5.8GHz wireless spectrum and sports a full color display and blue backlit keypad. In addition to landline calls, this system can be paired with up to eight Bluetooth devices, letting one take calls from their cell phone on the LS5145 handset when within range. The Bluetooth pairing also lets you take landline calls on a Bluetooth headset.
A few other features of the LS5145 include a combination of images and animations for assigning wallpaper, the ability to record ring tones directly from any type of stereo equipment and a digital answering system with voicemail waiting indicator. This phone system should be available now.