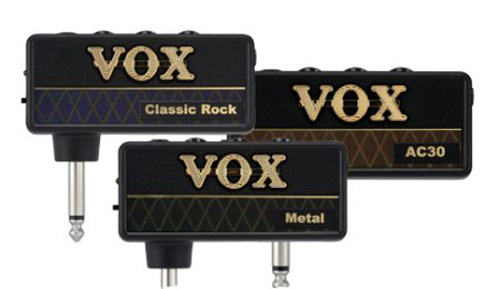 What's in your gig bag? A common frustration for guitarists is not being able to work with an amp when they really want to. An idea pops in your head or you are thinking about the lick that isn't as tight as it should be but its too late to turn on the amp or simply too inconvenient to bring an amp with. The Pignose and other small amp variants help with that but sometimes you only have what fits snugly in your gig bag and if you have a hard case like I do fitting that Pignose and a cable in just doesn't work. Enter the Vox amPlug which not only does not require a cable but also does not vie for space with your spare strings, tuner and other misc. we keep in our cases.
The amPlug plugs straight into your guitar and comes in three amp styles: VOX AC30, Classic Rock, and Metal. An AUX jack lets you play along with your CDs or MP3s and gives up to 15 hours of use with just two AAA batteries. The 100% analog circuitry faithfully recreates the sounds of the original amps the amPlug units were modeled after and special attention was given to the gain circuits of each variation to not only recreate the original sounds, but also keep the high frequency and gain sounding good when the volume is turned down.

This is a must have for guitarists who know that strumming an electric with no juice is as unfulfilling as it is hindering. The amPlugs will retail for around $190 USD but availability is still to be announced.
via Voxamps