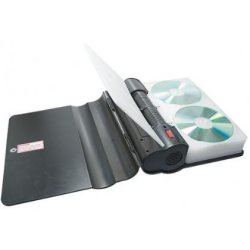 There are always going to be some of us who haven't quite made the leap toward the current media standard. I am sure that one or two of you reading this may have even actually played a vinyl record in your lifetime. Luckily for these people, technology seems to have a "No one left behind, even your grandpa" rule, as there always seems to be a new product to bridge the gap.
Take this CD album, for instance. If you haven't quite made the jump to digital music and still have a CD player in your car, it will help you keep your eyes on the road. Each album holds 20 CDs. Just record a 3 second voice message for every CD. Then as you are flipping through the album, just listen to the messages telling you which albums they are.
There are some obvious drawbacks though. The albums are about 5 times as bulky as typical CD cases and they are a lot more expensive. £24.95 or $48.65. Ouch! Plus, if you like to have a lot of CDs in your car, you are investing some time.
[Product Page] VIA [Nerd Approved]