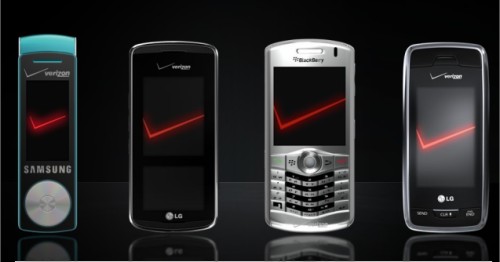 Verizon went ahead and unleashed four new phones all at once targeted at the fall shopping season trying to get a share of AT&T's iPhone dollars. The new lineup includes the Voyager and Venus from LG along with the narrow Samsung Juke and the Blackberry Pearl sporting EV-DO.
The headliner of this Verizon release party is the LG Voyager looking very similar to the iPhone from the outside with a large touchscreen on the face. Once you get your hands on the Voyager you'll see that it's a little bulkier than the iPhone and that touchscreen face actually hinges open to expose another display inside that faces a large QWERTY keyboard, hence the thickness. The Voyager also has V CAST Mobile TV, a microSD slot and a modest 2 megapixel camera.
The LG Venus has similar features as the Voyager with a slider design and a touch screen on half of the display. It doesn't have the full QWERTY keyboard however and uses the normal phone keypad. The Venus carries a little extra style coming in colors of black or pink, has a 2 megapixel camera and is microSD expandable to 8GB.
Samsung brings a more unique design to today's Verizon lineup with the Samsung Juke. The Juke has got to be the first we've seen in the U.S. "flick" open which is a welcome change amidst all the sliders and clamshell designs. Going for just $99 the phone is very narrow, not much wider than a stick of gum, and comes in colors of metallic navy, teal and red. It's designed as a media phone although it doesn't have EV-DO to download media through Verizon. It does have a USB port and 2GB of internal memory. A couple things that make this little number stand out even more is the on-board GPS with VZ Navigator, a VGA camera with Nightshot, a speaker and Bluetooth stereo.
Last but not least Verizon gets their hands on the Blackberry Pearl with EV-DO which isn't found on Pearls from anywhere else. Like the other phones it also has VZ Navigator GPS and has a 3.5mm mini headphone jack.
No word for sure on the release dates of these four, but they all should be available for the holidays this year and likely by Thanksgiving (if they want to sell any).