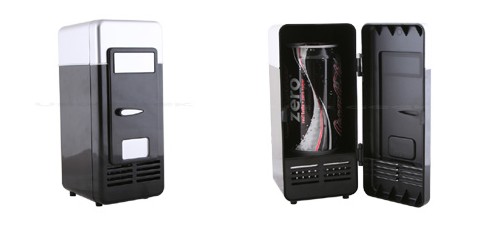 It looks like that USB Mini Fridge we saw earlier this year, not unlike Spiderman, has had it's suit changed from red to black and has come up with some advanced powers. Now this little fridge that snugly fits a single 12 ounce can will not only cool it down, but can also heat it up.
The USB Mini Fridge and Heater appears to carry the same shape and always-on blue LED lighting, but now with the flick of the inline switch on the cord can heat up its contents by by 34°F or cool it down by 28°F. The little refrigerator/heater can achieve these temp changes in a matter of 5 minutes and is powered by a standard USB connection to just about any computer.
It measures 19.5 x 9 x 8cm and retails for $32. This morning we were hard-pressed to find something that would fit nicely in here that we would want to warm up but if you are one of the few, very few, who likes their soda heated then your search is over. Let's just hope it this suit color change doesn't make the Mini Fridge too cocky.
USB Mini Fridge and Heater via ForeverGeek
mini fridge, refridgerator, USB, USB Mini Fridge