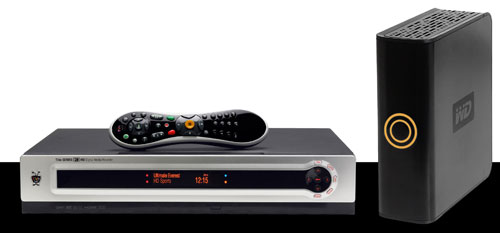 TiVo kicked out today a service update for TiVo Series 3 and TiVo HD users which offers, among other new features, external storage support. The first verified external hard drive product to support this update is Western Digital's $120 500GB My DVR Expander.
The new TiVo update is designed to work with E-SATA drives, specifically at the moment the Western Digital My DVR Expander. This 500GB hard drive can store up to 600 hours of standard-definition (SD) or up to 65 hours of high-definition (HD) television programming. It can also store broadband content that TiVo makes available through TiVoCast partners, including movie and TV downloads via Amazon Unbox on TiVo. The drive itself is available now.
As for the update, other new features for the HD TiVos include multi-room viewing for sharing between DVRs, TivoToGo functionality for loading programing onto portable devices and laptops and progressive downloads so one can watch TiVoCast content such as Amazon movie downloads while it downloads. For those who are counting, this is is TiVo Service Update 9.2.
Western Digital My DVR Expander [via TiVo Blog]