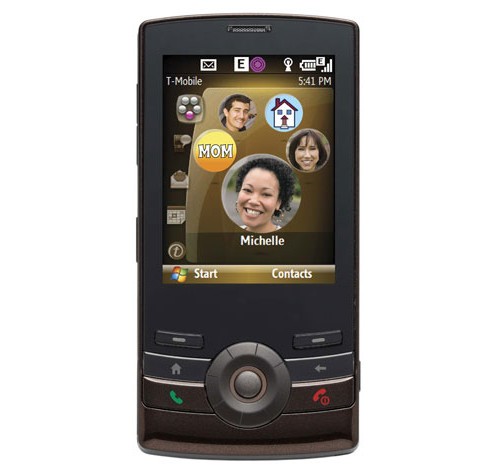 Today T-Mobile has announced the launch of the new Shadow mobile phone from HTC. This is the first of a number of Shadow-branded phones that T-Mobile has planned for the future as devices that are "designed for people who have lives beyond work.", according to Robert Dotson, president and CEO of T-Mobile USA. The device runs on an enhanced version of Windows Mobile 6 which hides a lot of the usually interface from Windows Mobile and replaces it with custom menus and navigation. According to T-Mobile the enhanced interface makes the Shadow more intuitive and easier to use.
Aside from this slider looking just plain good, it also features a spin navigation wheel, 2.6″ display (not a touchscreen), microSD memory expansion slot, a full QWERTY keyboard, Bluetooth, 2.0 megapixel camera with video capture, media player for music and video, Wi-Fi and EDGE high speed data. The Shadow also has an enhanced version of T-Mobiles myFaves where users can call, email, text, send a picture, send a video or send a voice note easily from the myFaves screen. It even has some instant messaging clients built in, including Windows Live Messenger, AOL IM, Yahoo Messenger and ICQ.
Although this phone runs Windows Mobile, T-Mobile is not marketing this as a productivity device whatsoever. The Shadow name comes from the phone's ability to help users stay "effortlessly" connected to your favorite people all the time, like a Shadow. This T-Mobile Shadow comes in two colors of copper or sage and will be available Wednesday, October 31 for $200 with a voice plan and a two year contract, or $150 if you add on the $20/month data plan.
HTC, Mobile Phones, Shadow, T-Mobile