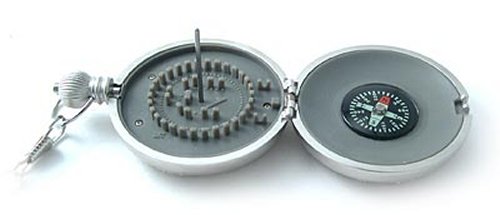 Just when you think you've seen everything, some backwards thinker has put Stonehenge in a pocket watch casing along with a compass. It's truly unique among watches, with the miniature rocks aligned up exactly as they are at the real Stonehenge.
The best part is that it actually tells time. You use the compass to find and face North. Then you insert the gnomon (The fancy stick in the middle. What do they teach you in school?) in front of the altar. Now, just look at the shadows that it creates and you will see the real time. Very cool. The kind of thing your friends will be impressed by. Obviously, with this watch you will be out of luck at night time or in the dark, but that's the price you pay for nice things.
If you can figure out which stone the first shadow of the day falls on, you can figure out the correct seasons. I would hope you can handle that one on your own though. And if you don't like telling time the ancient way, there is a regular watch on the front of this pocket watch.
You can harness the power of the ancients for around $40.
[Stonehenge Watch] VIA [Gagetvenue]
Stonehenge watch, Watches