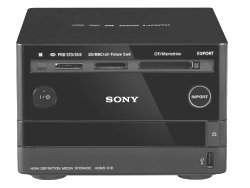 Do you take way too many family pictures? Do you have photos in old shoe boxes and look at them far more then you should? Well, stop living in the past, flipping through that old bulky photo album. Now you have a big black box to imprison all of those cherished memories in, so they can survive for all eternity.
Officially making photo albums a thing of the past, and practically laughing at their out-datedness, Sony's HDMS-S1D let's you store and relive those memories. Thanks to Sony's x-Pict Story HD(with face recognition), you can even add a soundtrack or have strange dream sequence fades between images. It will organize all of your images and let you share photos with slideshow and scrapbook-style displays.
With it's 80GB hard drive, it connects to a high definition television via HDMI and is capable of holding up to 50,000 high resolution photos. You can import your photos via multiple flash memory card formats, CD, DVD, USB or Ethernet.
If you absolutely have to upgrade that old paper bound family album and bring it into the 21st century, Sony's new toy will run you about $400. It is available this month.
[Sony] VIA [Engadget]