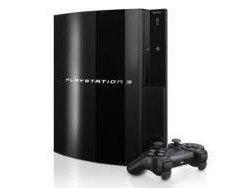 Just last week we found out that Sony had finally given a price cut for the PS3 in the UK, offering a Value Pack with the 60GB console and two games for £349 (down from the original 60GB PS3 price of £425). They also announced a new 40GB model that will go on sale in the UK in October (and hopefully to the US soon after) which lets gamers become PS3 owners at an even lower price of £299.
The new 40GB model lacks backwards compatibility, a couple USB ports and a card reader, but nevertheless allowed a larger audience the ability to get on board with the PS3. At this point folks in the UK had a couple options, they could get a better deal with the larger drive capacity and all the features or save a few more bucks and not be able to play their PS2 games on the PS3, but not for long.
Now Sony has announced that they are discontinuing the 60GB model in the UK altogether and are only offering the 60GB Value Pack while supplies last. Once the 60GB models are all gone "the new 40GB model will be the only one available in SCEE territories.". If you've been waiting to buy a PS3 in the UK area until the price drops this is all good news, however if you wanted the larger drive and like the backwards compatibility you can still save a few bucks with the price drop but you'd better act fast.
Sony UK Press Release via GameStop