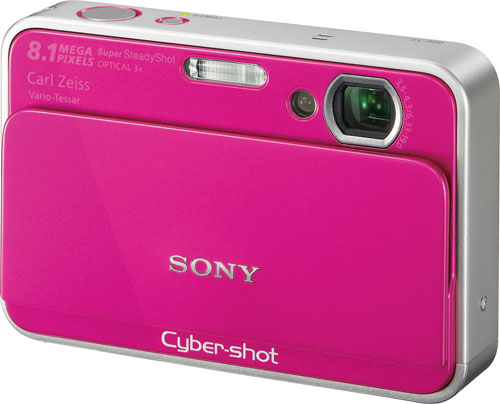 Sony's getting colorful this holiday season with its new Cyber-shot DSC-T2 digital camera. This compact device is available in blue, green, pink, white or black and will price at around $350.
The DSC-T2 sports an eight-megapixel lens and offers up to 4GB internally for storing up to 40,000 VGA-quality photos or 1,000 eight-megapixel pictures. It offers an interesting album folder feature for organizing in-camera photos in chronological order, displaying them in a calendar view mode. Selected photos can be moved to other folders for later reference. The T2 also comes pre-loaded with software which lets you public photos and videos directly to popular Web sharing sites.
Other features of the Sony Cyber-shot DSC-T2 include a touch panel LCD screen, a function that automatically detects and captures a person smiling without the need to press the shutter, HD output and in-camera scrapbooking. The T2 should be available come December.