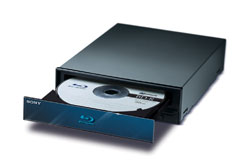 Sony unveiled today a second generation internal Blu-ray Disc drive which cuts down the amount of time it takes to burn a BD-R disc. The new BWU-200S, available as an aftermarket item for computer users, is priced at around $600.
The Sony BWU-200S is capable of 4X BD-R, which Sony says results in burning time to this Blu-Ray Disc format being cut by half. It also offers 16X DVD+R recording speeds. All in all, Sony has designed this drive to "record up to 50GB of data for random access storage and backup on BD-R (write once) or BD-RE (rewritable) discs, or up to 230 minutes of high-definition HDV 1080i video on a BD-R/RE 50GB disc. It also supports recording on standard single layer 4.7GB DVD+R/+RW/RAM discs, 8.5GB DVD+R double/dual layer discs, and CDs."
The BWU-200S also includes a Serial ATA interface and 5.25-inch design for installation into a Windows-based computer. It comes with software for burning HD content. This multi-format combo burner is slated for release in November.