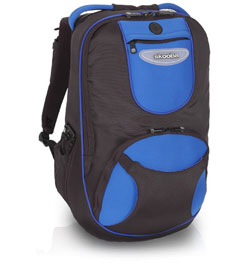 Skooba Design (formerly RoadWired) announced today some new tech travel cases for the masses. One example of this new line up is the Skooba Shuttle, priced at around $140.
The Skooba Shuttle is a laptop backpack available in three color combinations. It has a laptop storage section in the main compartment while also allowing space for books, etc. There's also a bunch of other pockets and places to stuff gear in this backpack, including an audio pocket with headphone wire port and a multi-compartment accessory organizer.
The backpack is made of weather-resistant ballistic nylon and offers a system of air-filled cells in the laptop section to aid in protecting your computer. The Skooba Shuttle should be availble now.