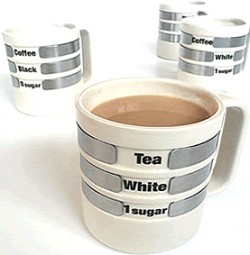 Early in the morning for a lot of people is the time they like to talk the least. Of course right away in the morning if someone is going to fill your drink or you bring your own mug to the coffee shop you're forced to announce out exactly what you'd like and how you'd like it, probably more than once. While this probably isn't a problem for some, for the many that would just rather not have to make their order with a smile every morning we have the Selector Mug.
This mug has three metal selector rings around it that let you make the visible selection of exactly what you would like without saying a word. The top ring has the common selections of hot chocolate, coffee, tea or herb tea. The second ring you can choose from milk, no milk, lemon or cream and the third ring has a selection from zero to 3 sugars.
Now if we can just find a cool mug like this combined with this special cup locking mechanism so no one will steal it we'll be golden. The Selector Mug retails for about $30.
Selector Mug via PointlessbutCool