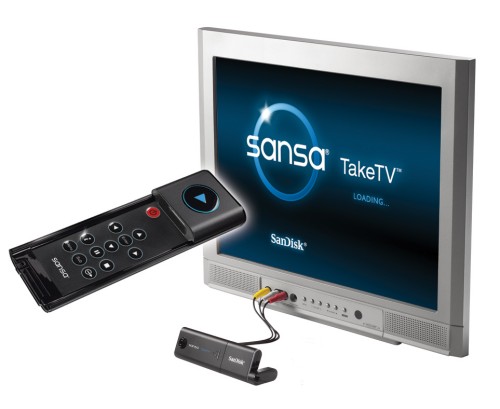 Today SanDisk has launched the Sansa TakeTV video player, a bridge solution designed to easily bring your downloaded video content from your computer to your television. The product was formerly announced as USBTV back in January but today went on sale through the Sansa website as TakeTV. The product launch is also coinciding with the launch of a beta service called Fanfare which is an online distribution platform where SanDisk will provide video content that can be downloaded to your PC.
The TakeTV device is actually quite simple. It sticks with the technology that SanDisk knows well – flash memory. According to the company, using the TakeTV device is as easy as using a USB flash drive. Users can simply plug the USB port into their computer and download video content to it. Once downloaded the device can be placed in a cradle which is connected through standard A/V connections to a television and by pressing play on the integrated remote control owners can watch the stored video on their TV.
The TakeTV system supports playback of DivX, XVID and MPEG-4 video formats and can connect to a television through composite video, analog stereo and S-Video. The flash-based video player connects and transfers data from your computer with a simple USB 1.1 or 2.0 connection and works with Windows, Mac and Linux operating systems.
The player comes in capacities of 4GB retailing for $99.99 or 8GB retailing for $149.99, and SanDisk estimates the 8GB capacity model is able to hold up to 10 hours of MPEG-4, 1.5Mbps video at a 720×480 resolution along with 128-Kbps audio.
SanDisk Sansa TakeTV Video Player
SanDisk, Sansa TakeTV, video player