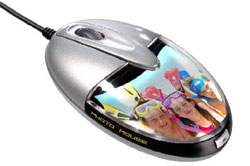 Now here is a garden variety desktop mouse with a little bit of personal flair which might make a good gift for grandma. The Saitek Photo Mouse is priced at around $20.
The Saitek Photo Mouse is a standard three-button computer mouse with scroll wheel and optical sensor. What makes this mouse interesting is that it "can be customized by printing a favorite photograph and positioning it under the mouse's transparent cover." One cuts a photo printed from the computer to the size of the included template and secures it inside the mouse by closing the cover.
If the mouse is plugged into a PC or Mac, says Saitek, it will bath your photo in a white spotlight. We know – not that exciting. Someone will like it though. The Saitek Photo Mouse should be available now.