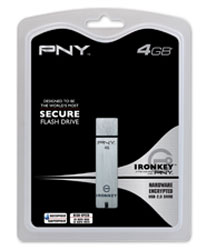 PNY Technologies, a maker of computer memory products, and Ironkey, a developer of computer security products, are teaming up to create a co-branded USB flash drive for retail. The new PNY 4GB IronKey Secure USB Flash Drive is priced at around $150.
The PNY 4GB IronKey Secure USB Flash Drive offers up a variety of measures to protect and secure your data. These include Internet authentication software, private web surfing, data backup, government-level AES "always on" encryption and a durable body design.
This 4GB drive works with Windows and offers a data transfer rate up to 20MB/sec. write or up to 30MB/sec. read. It should be available this month.
PNY 4GB IronKey Secure USB Flash Drive
4GB, Flash Memory, IronKey, PNY, Storage, USB flash drive