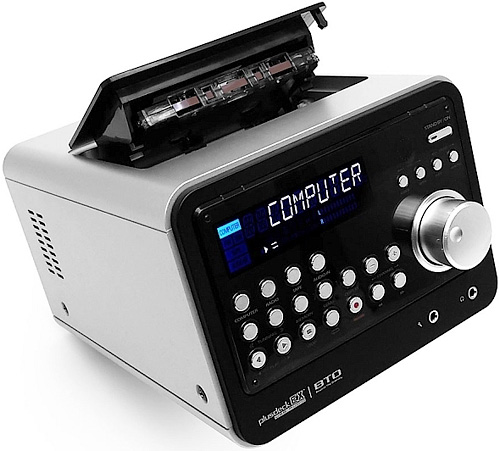 We all love music. Some of us so much so that we hold on to old media long after it's time has passed. Take that box of old cassettes you have stashed in the closet, for example. You know who you are. Problem is, tapes degrade over time. Eventually, you either have to buy it anew on more recent media, or convert it somehow.
Enter the plusdeckEX. It mates with your PC via USB and the result is beautiful digital music. A 7.1 channel built-in sound card converts the analog signal from the cassette tape into a digital file format like MP3. It's just that easy.
If for some reason you still want to play cassettes all day long and stick it to the man, the plusdeckEX will also transfer your MP3s to an audio cassette so you can enjoy them old school.
Another plus is it's good looks with a design somewhere between retro and modern. Other features are an LCD control panel, AM/FM radio tuner, and a remote control. You can expect to see it in 2008.