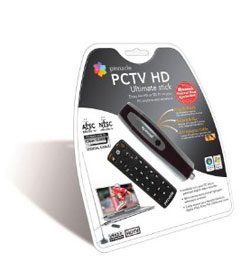 What if the idea of bringing HD television to your computer was as easy as plugging in a USB drive? That's the idea behind the new Pinnacle PCTV HD Ultimate Stick, priced at around $130.
The Pinnacle PCTV HD Ultimate Stick takes the form of a USB drive which plugs into a computer's USB 2.0 port. It is described as providing "plug-and-watch TV viewing on a PC without any installation". The stick delivers HDTV broadcasts via ATSC and can also support analog (NTSC) TV signals. It is also hardware-ready for ClearQAM (unencrypted digital cable) reception.
Other features of the Pinnacle PCTV HD Ultimate Stick include pre-installed PVR software which lets you record and store up to two hours of TV on the thumb drive, video editing software and a remote control. This device should be available now.
Pinnacle PCTV HD Ultimate Stick