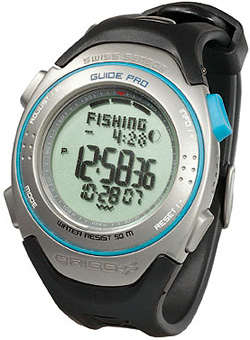 Sportsmen and adventurers love tech. Especially fishermen, when they haven't had a nibble or bite all day. It can mean the difference between being bored to tears and catching that fish of legendary size. The Guide Pro series of watches from Origo can help. They use temperature and pressure sensors to read and analyze atmospheric data, so that you know when it's the best time to fish or hunt. That way you are more productive and can spend more time doing other things.
Of course, it can also forecast weather using these functions. That's not all it can do. The watch has an altimeter too, which has an accuracy of about 12 inches. It can graph your ascent or descent over 8 hours. But wait, there's more. How about a compass? Yes, it has a compass, as well as other typical watch functions. No pricing available yet.
So whether you're a hunter, fisherman or just out adventuring with a bullwhip and a fedora, this would be the watch for you.