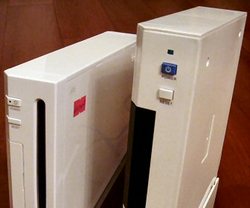 China's clone of the Wii obviously does not have the same quality control that the Wii does. Just look at it. Now known as the Vii, this high tech knock off will cost less because of it. It is a complete clone of the console and the remote.
I know. Made in China right? Aren't they the guys that just tried to poison us through the toy trade, among other things? Well, yeah. But we are talking a Vii here. What's a little lead floating through the air and contaminating your room? As long as some form of Wii is available to you, who cares right?
And they already have games on the way. Games with such stellar titles as Happy Tennis and Catch Fish. How can you go wrong with that?
[Product-Reviews] VIA [The Gadget Blog]