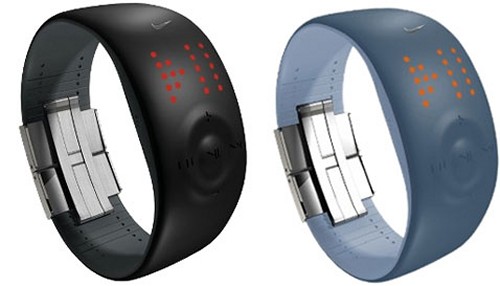 Without much fanfare Nike has let loose the new Nike Amp+ Sport Remote Control. The Amp+ wears on your wrist like a watch and actually will tell the time, but that's the least impressive of its features.
The watch works in conjunction with the Nike+ iPod Sport Kit and Nike+ iPod Ready shoes (if you want shoes with a special pocket in your shoe for the sensor) to give you audible feedback while your walking or running of your time, distance, calories and pace. This is very convenient and saves you from toggling through menus and viewing the data on a little LCD screen. The display shows the time and when connected to your iPod nano will show navigation controls for the player. You can even set up a particular "power song" and hit a button to play it during the tougher times when you need a little extra motivation.
The strap is made out of polyurethane and its size is customizable to just about anyone by cutting the strap to fit. Its also water resistant to 50m and comes in colors of black, black & red, blue or green & orange. The Nike Amp+ is retailing from Nike for $79 and for another $29 for the iPod Sport Kit you'll be set.
Nike Amp+ Sport Remote Control via Giz