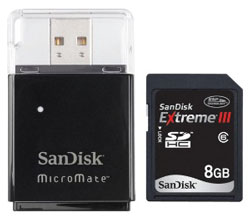 SanDisk knows those who own high performance digital cameras demand memory cards offering better transfer speeds and storage capacities. The company thinks it can meet that need with its new SanDisk Extreme III 8GB, priced at around $180.
The SanDisk Extreme III 8GB memory card is in the SDHC format and comes bundled with a SanDisk MicroMate SDHC Reader. A typical Extreme III 8GB card can store more than 4,000 high-resolution pictures or up to 16 hours of MPEG 4 video. Transfer speeds are rated at 20MB per second.
The SanDisk Extreme III 8GB works best with devices which are SDHC compatible and come with software to recover deleted images. The card and memory reader bundle should be available in the next month.
Extreme III, SanDisk, SDHC, Storage