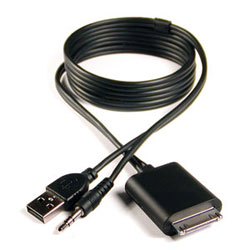 You have an iPod. You drive a vehicle which uses Ford's new Sync media system. You want to connect the two. You probably in that case want the new Keyspan Sync Cable for iPod, priced at around $50.
The Keyspan Sync Cable for iPod works in conjunction with the Sync system found currently in 12 models of 2008 Ford, Lincoln and Mercury models. The cable acts as a bridge between your iPod and Sync so that your player's content can be displayed on the in-car entertainment screen. You can control the iPod through the Sync system while it charges at the same time.
This cable is designed to work with the newest iPods, including the classic and touch. It is also geared for use with older iPods such as the mini and 4G models. The Sync Cable is available now.
Ford Sync, Keyspan, Keyspan Sync Cable