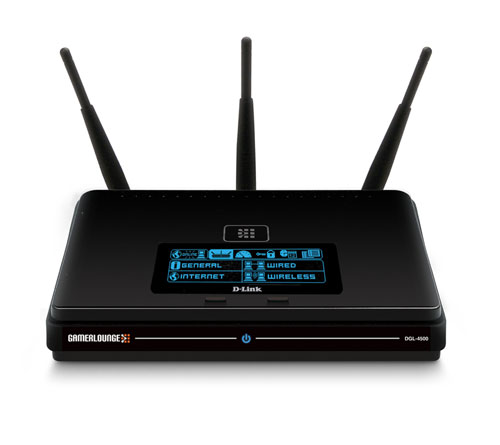 All wireless routers are boring looking and some shade of gray, right? Not so, says D-Link. The hardware connectivity company is going a little stylish with a black paint job and interesting OLED display on its new D-Link Xtreme N Gaming Router (DGL-4500), priced at around $240.
The D-Link Xtreme N Gaming Router (DGL-4500) is gamer-focused, combining Draft 802.11n wireless technology with an "intelligent" packet processing engine to give online gaming a priority for bandwidth over other home network applications. There's also duo wireless technology to let you choose between the 2.4Ghz or 5Ghz band, Gigabit WAN and LAN ports and a "game-centric" user interface which allows for configuration of multiple ports or port ranges in the firewall by selecting a game title from a menu.
What we really think is coll though about the DGL-4500 is its external OLED display, also known as the "Network Activity Display." You can view a variety of data points from this screen, including activated security types, network speeds and wireless network names. Depending upon the game you are playing viewing the display could be more fun. This D-Link router is in stores now.
D-Link Xtreme N Gaming Router (DGL-4500)