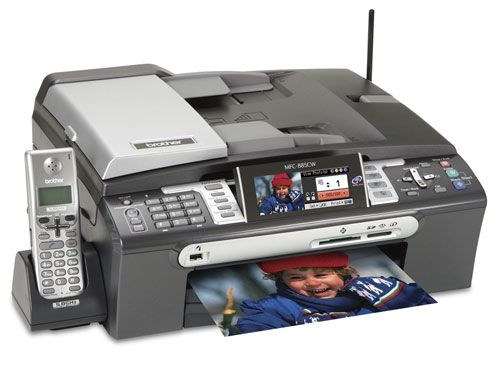 While there never really is anything sexy to say about all-in-one printers Brother has unveiled a few new models which at least have our heads turning. The most interesting of these is the MFC-885CW, priced at around $250.
The Brother MFC-885CW is one of the first inkjet printers to sport a widescreen color LCD, measuring 4.2-inches. This larger screen display, says Brother, helps users better preview digital photos off of a supported media card as well as previewing incoming faxes before printing. This model is also quite network ready, offering both Ethernet and wireless 802.11 connectivity offerings.
Another interesting feature of the MFC-885CW is the included 5.8GHz digital cordless handset, which can be expanded to a maximum supported total of four. Other interesting functions on this printer, available this month, include photo enhancement capabilities, a photo bypass tray, and a built-in messaging center.
Brother MFC-885CW Press Release