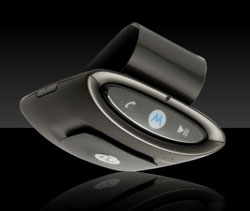 Motorola announced today what it is calling its first portable in-car speaker phone and music system accessory. The new Motorola MOTOROKR T505 is slated to be available sometime early next year.
The Motorola MOTOROKR T505 makes use of Bluetooth wireless technology, connecting to a Bluetooth-enabled mobile. This connection allows the T505 to stream from the phone telephone calls and stereo music. This audio comes to the T505 and is rebroadcast on your car stereo via FM. A built-in feature helps you determine the best FM station for clear audio.
A few other features of the Motorola MOTOROKR T505 include a clip for attaching to a car visor, a built-in microphone for speaker phone conversations, audible caller id and automatic muting of music when a call comes in. No pricing information was announced.
Automotive, Bluetooth speaker phone, Motorola, T505