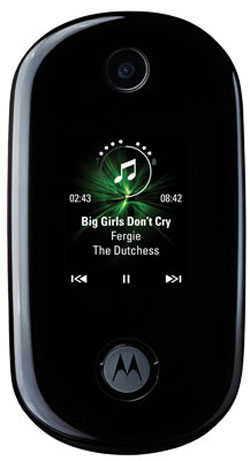 Motorola recently unveiled a stylish new music focused mobile phone which offers upwards of 4GB of optional microSD memory card support. The new Motorola MOTO U9 should be available in select markets by the end of the year.
The Motorola MOTO U9 offers up functionality as a digital music playing device with external touch sensitive music controls and one touch access to the stored music library. Support is offered for WMA (including DRM), MP3 and AAC music formats. The phone works with Windows Media Player 11 and lets one load music onto it through a USB 2.0 connection.
Other features of the MOTO U9 include Bluetooth support, voice dialing, a two-megapixel digital camera and animated screen savers. The U9, in select markets, will also feature exclusive content from recording artist Fergie.
Mobile Phones, MOTO U9, Motorola, U9