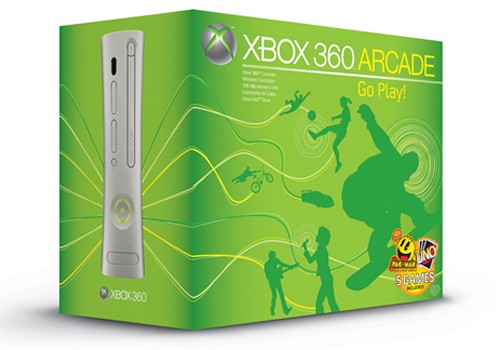 Today Microsoft has officially launched the highly rumored Xbox 360 Arcade console at a reasonable $279 bundled with games and trying to pick up on the "entire family" of gamers and bring some more attention to the Xbox Live Arcade games.
"As families gather together this holiday, it's the perfect time to launch a new low-priced, high-value Xbox 360 that plays games, TV shows and music for everyone to enjoy," said Jeff Bell, vice president of global marketing, Interactive Entertainment Business at Microsoft. "In addition to offering an incredible all-in-one package for families to get right into the fun, the Xbox 360 Arcade system features the industry-leading Family Settings, which allow parents to control what their kids are watching and playing — and we know how important that control is to families around the world."
The 360 Arcade comes with a wireless controller, HDMI output to put high-def to your TV if you would like and five game titles that were previously only available through the online Arcade service: PAC-MAN Championship Edition, Uno, Luxor 2, Boom Boom Rocket and Feeding Frenzy. It also comes included with 256MB of memory but no hard drive, in which gamers may find themselves getting a hard drive add-on soon after purchase.
In addition, Microsoft has also cut deals with Warner Bros. and Nickelodeon to bring over 100 family-oriented TV episodes to Xbox Live including over 50 Looney Tunes episodes along with the Backyardigans, Blue's Clues and iCarly. The episodes will be available through the service straight to your Xbox 360 on-demand for what works out to be about $1.50 for standard quality videos and $1.75 for high-definition.
"We think this is great for families because in addition to games, DVD movies and music, we can provide all this on-demand entertainment as well," said Xbox 360 product manager Aaron Greenberg.
Microsoft has two other Xbox 360 configurations that retail for $349.99 and $449.99 that both house more internal storage. This new Xbox 360 Arcade model will fare nicely this holiday shopping season in competition with Sony who just launched a cheaper PlayStation 3 for $399 and Nintendo's Wii still at the lowest price of $249.99, if you can find one.