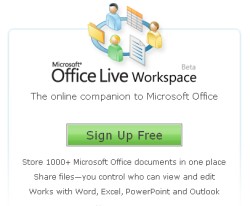 Today Microsoft launched Office Live Workspace, a web-based service allowing users to share their Microsoft Office documents on the web. The new service allows users with an installed version of Office to upload as many as 1,000 documents to a place on the web were they can access it from different locations connected to the internet as well as share them with others.
Office Live Workspace, which is currently in beta and free to use after registering, saves the online documents in a secure environment where users can send invites to others who enter a password and view the documents. Users without Office installed on their computer can still log on and view documents online and even comment on them, but cannot edit them or add new documents.
This move by Microsoft brings them in closer competition with other free online services for sharing similar documents such as Google Docs and Lotus Symphony who also just launched an online document sharing application last month. To add to the already quickly growing mix, Adobe also just announced today that they will be offering a web-based word processor called Buzzword after acquiring a company called Virtual Ubiquity.
Along with the online Office unveiling Microsoft also announced its plan to sell web-based services of its Exchange, SharePoint and Communications server software to larger enterprises (>5,000 users) along with a pretty cool looking new project called Exchange Labs. This new service will initially be set up in schools to test new messaging systems in high traffic environments.

Microsoft Office Live Workspace