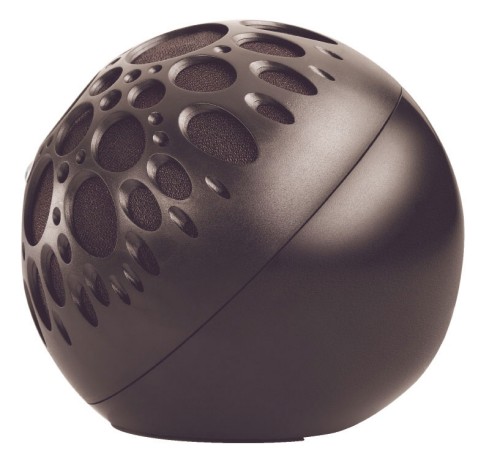 Sony Ericsson is touting this portable speaker stating it "looks as good as it sounds", which makes us worry a little bit about the "sound" part. The 100mm sphere can connect wirelessly from your mobile phone through the A2DP Bluetooth stereo audio profile allowing you to stream music saved on your phone directly to the speaker and share your sounds without wires.
The 1.5 watt speaker in the MBS-100 is powered by a rechargeable battery that gives it up to 5 hours of playback with as many hours of charge time, or 50 hours of standby. It also comes packaged with a charger and a carrying bag so people don't think you have some rotting fruit you're carrying around. The specs say it comes in a single color of black but the press kit photos seem to have a touch of brown to them.
The ability to stream your music to a speaker wirelessly is pretty cool idea, however this speaker with its grapefruit size is not nearly as portable as your phone and won't discretely fit in many pockets to take with you. It's expected to be available this fall but no price is available yet.