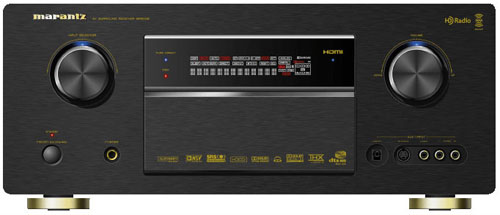 Word on A/V Street this week is Marantz, a developer of audio-video gear, is out with a new and highly desired A/V receiver. The Marantz SR8002 is priced at around $2,100.
The Marantz SR8002 is a 7.1-channel receiver loaded to the gills with features. Take a look at this laundry list of its most pronounced ones: HDMI 1.3 repeating capability, HD Radio, THX Select2 processing, Dolby TrueHD, Dolby Digital Plus, and dts HD Master Audio as well as MultEQ room correction and calibration technology from Audyssey Laboratories. You also get multi-room signal distribution.
Power from the SR8002′s transformer is rated at 125 watts and there's also technology to enhance compressed music formats such as MP3s. The features go on from here but we think you get the idea: this baby is loaded. It's also available now.