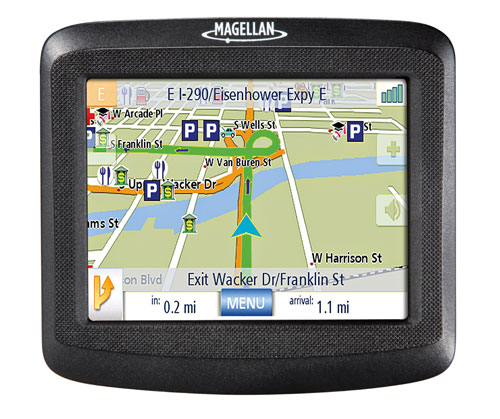 We can never get enough of GPS units here at Slippery Brick, especially when they are priced at what we consider to be a cheap price for the features offered. Enter therefore the Magellan RoadMate 1200, priced at around $230.
The RoadMate 1200 is considered a "pocket-sized form factor" with Magellan, which we find a little funny unless you have a huge empty cargo pant pocket available. It's got a 3.5-inch touchscreen with an interface designed to cut down on input. It's well loaded with data, containing the "latest NavTeq maps, which cover the 48 contiguous United States, Hawaii and Puerto Rico. It also features 1.3 million points of interest (POI) data, such as gas/petrol stations, ATMs, hotels, restaurants, airports and more, with contact details such as phone number, address and the travel distance."
You also get another nice features like different map views, traffic detour recommendations and a trip computer. We don't find it nearly as full featured as the Alpine Blackbird, but the Magellan unit is also over $500 cheaper. You should be able to navigate your way to the store to find the RoadMate 1200 starting now.