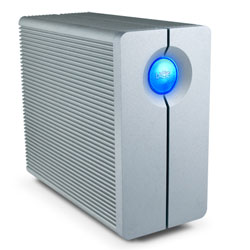 The people from LaCie never seem to rest. The latest product from the bowels of this storage device company is the LaCie 2big Network, available in November in various storage sizes up to 2TB.
The LaCie 2big Network is designed as a backup solution for small office environments. It sports a Gigabit Ethernet connection and two RAID modes for mirroring each other or providing larger storage capacity. A web-based administration page lets one offer customized access to various users both in the network and for remote access.
We have to wonder – do the people over at LaCie sleep? Or is the company just trying to place catch up to larger storage device makers? Either way we like the products they are putting out up to this point.