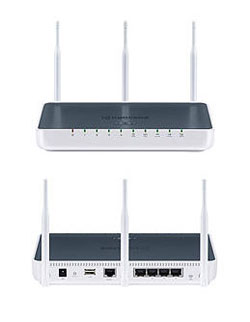 Kyocrea Wireless recently unveiled a new portable router which supports 802.11n (Draft 2.0) for faster wireless connections. The Kyocera KR2 Mobile Router will be available sometime in early 2008.
The Kyocera KR2 Mobile Router follows on the heels of the award-winning KR1. The KR2, besides supporting 802.11n, is designed to work with PCMCIA, ExpressCard and USB devices for wireless connectivity. It can also also act as a regular router via wired connections. A dedicated button helps setup and bolster wireless security, with the router featuring VPN-L2TP and enhanced encryption for network security.
"The launch of the KR2 Mobile Router demonstrates Kyocera's commitment to developing a broad range of data products," said Tom Maguire, vice president of global marketing at Kyocera Wireless Corp. "From a wealth of best-of-breed M2M modules and devices to award-winning PC cards and routers, we are ensuring that people can connect on the go with complete portability and flexibility.
802.11N, KR2 mobile router, Kyocera, portable router, router