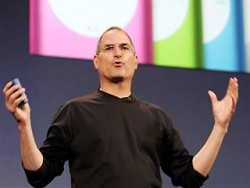 Today in an interview with the Wall Street Journal Steve Jobs said that iTunes will be reducing the price of their DRM-free tracks from the current $1.29 down to 99 cents. These songs from iTunes were launched as iTunes Plus back in May and offered a number of titles, mostly from EMI, without any digital rights management restrictions. They also came in a little higher quality for a little more money with 256 kbps AAC encoding compared to the 128kbps encoding for the rest of the 99 cent versions. "It's been very popular with our customers, and we're making it even more affordable," said Jobs in the interview.
This move brings Apple's prices a little closer to those of Wal-Mart and Amazon who both offer song downloading services with DRM-free music with some titles going for less than 99 cents. This also will make iTunes slightly more desirable compared to new players coming into the online music game such as Doug Morris and Universal Music Group who are looking to make some competition for Apple in a different way.
Apple had recently come under a flurry of criticism due to the digital rights management restrictions put upon songs from iTunes which limited how the songs could be shared and restricted them to being played on Apple's own iPod. Jobs came back blaming the DRM restrictions on the music companies who wouldn't agree to provide the titles to iTunes without the restrictions because of piracy fears. iTunes Plus alleviated some concerns since it offered more freedom with purchased music, but now with a growing number of titles available on competitor websites with fewer restrictions at a lower price Jobs and Apple now appear to be trying to keep up with the competition instead of leading it.
Also, now that iTunes Plus songs no longer cost more than the others are they still iTunes Plus, or is everything else now iTunes Minus? Maybe Jobs has a price reduction on the regular DRM'd songs in store for us next.
Apple, DRM Free, iTunes, music, music download service