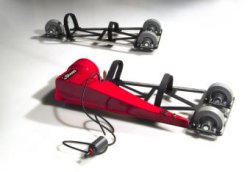 When the iShoes first rolled out, they looked fairly clunky, with 4 large wheels. But in no time at all, they have had an upgrade. They lost a wheel and look a lot sleeker now. These "shoes" are powered by electric motors and controlled by a wired remote. They can also hit speeds of up to 15 mph. Presumably more with their new sleeker upgrade and they come in men's and women's sizes.
Right now it is in the prototype phase still, but they hope that they will go 5 to 7 miles without having to recharge the batteries. Can you say Skinned knees? How about broken limbs?
I think I'll stick to my sneakers, but I love the fact that more and more footwear like this is turning us into The Jetsons.
Concepts, iShoes, Segway, shoes, skates