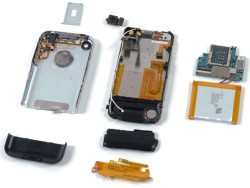 The Center for Environmental Health (CEH), a California environmental activist group, has filed a complaint Monday against Apple for the iPhone saying that it is constructed using toxins that are prohibited in California. According to the CEH the iPhone is violating Proposition 65 which requires products that expose any reproductive toxins or carcinogens to have a warning label or it cannot be sold in the state. They are giving Apple 60 days to comply before they launch a law suit.
According to a recent Greenpeace report the parts in question of containing toxins are the plastic earphone wiring cover. The report claims the coating contains phthalate esters which have been linked to birth defects. Greanpeace gave Apple only a 2.7 out of 10 in "greenness" in their report which was less than most other major corporations. "The phthalates found in the headphone cords are classified in Europe as 'toxic to reproduction' because of their long-recognized ability to interfere with sexual development," Greenpeace scientist David Santillo said in the report. Brominated compounds were also found in half the samples tested which could create dioxin when burned, according to the study.
Apple was quick to respond to the report. "Like all Apple products worldwide, iPhone complies with RoHS [Restriction of Hazardous Substances], the world's toughest restrictions on toxic substances in electronics," said an Apple spokesperson to MacWorld. "As we have said, Apple will voluntarily eliminate the use of PVC and BFRs by the end of 2008."
CEH states that even though a label will bring the iPhone within compliance they are pushing to have the company use an alternative material instead to rid the chance of exposure. "We want the company to take the toxic chemicals out of the product and make it safer," said Charles Margulis of CEH. Incidentally, California governor Arnold Schwarzenegger has just signed a bill making the phthalates illegal in children's toys.