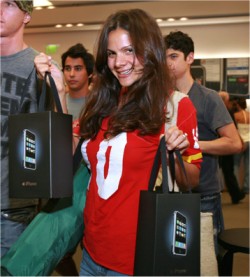 Apple started placing new restrictions on the sale of its iPhones last week in the U.S. and reports are saying that the restriction will apply in the U.K for next months launch as well. When purchasing an iPhone, consumers are no limited to purchasing two per person and must use a credit or debit card to make the purchase. According Apple spokesperson Natalie Kerris, the restrictions are to ensure there are enough iPhones available for everyone through the holidays, or everyone that's willing to play by the rules, that is.
"Customer response to the iPhone has been off the charts, and limiting iPhone sales to two per customer helps us ensure that there are enough iPhones for people who are shopping for themselves or buying a gift," Kerris said. "We're requiring a credit or debit card for payment to discourage unauthorized resellers."
Prior to these new purchasing restrictions anyone was able to put down a pile of cash for up to 5 iPhones at a time and there would be no paper trail to stop them from buying 5 more at the next Apple store. While its hard to say if Apple really expects a supply issue through the holidays or not, the required credit or debit card will make it easier for Apple to thwart those looking to buy an iPhone to illegally unlock it and resell it.
This change comes after Apple found that more than 250,000 iPhones could be unlocked of the 1.4 million that were sold at the time of the study. Apple may very well have better luck at cutting down on the unlocked iPhones with this restriction than they have ">battling with the hackers, and having to present a credit card will likely deter many who are planning purchase with the intent to resell.
Apple, credit cards, iPhone, iPhone sales