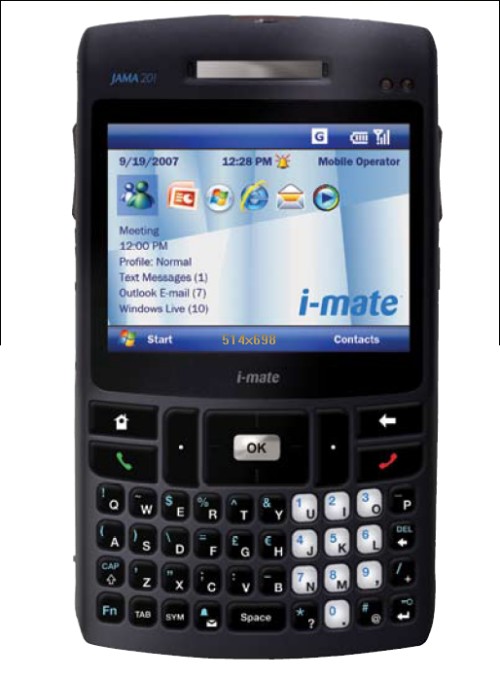 i-mate has unveiled a couple of new additions to their lineup of smartphones with the JAMA 101 and JAMA 201, both running Windows mobile and sporting similar features targeting a slightly different audiences.
The JAMA 101 pictured below runs on Windows Mobile 6 Professional and has a 2.4-inch touchscreen, a 2 megapixel camera with flash and Bluetooth connectivity. It houses a measly 128MB of memory but you can expand it to your needs with a microSD card slot. The connectivity consists of just tri-band GSM/EDGE and unfortunately it doesn't have any Wi-Fi or UMTS. It also houses an unimpressive 300MHz Samsung processor which doesn't exactly make this smart device a power house but is well within the range of being usable, hopefully with a price to reflect it. The JAMA 101 measures 113mm(L) x 63mm(W) x 14mm(T).
The 101′s sibling, the JAMA 201 pictured above is quite a bit similar with the same memory, processor and camera but sports a full QWERTY keyboard and a 2.5-inch LCD in place of a touchscreen. It also runs on Windows Mobile 6 but the Standard version instead of the Professional and has overall dimensions of 105mm(L) x 52.5mm(W) x 15.6mm(T). No pricing information has been released as of yet.
i-mate JAMA 101

i-mate JAMA 201