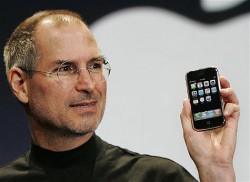 For those who have iPhones unlocked by third party software hacks and were foiled by Apple's 1.1.1 firmware release, it looks like the game is back on. SimFree version 1.6, from the same company that created the original hack to unlock Apple's iPhone outside of the exclusive and required AT&T service plan, is a new countermeasure hack that gets around the new firmware update and will once again unlock those iPhones "bricked" by the 1.1.1 update.
According to iphoneSimFree, this new iPhone "jailbreak" will let anyone who has rightly been a little leery to update after Apple's warning to safely go ahead and apply the 1.1.1 update and SimFree will keep the phone usable, at least until Apple comes out with another update.

"We CANNOT guarantee that this software will work after any future updates for the iPhone," states the iphoneSimFree website. "It does currently work on all firmware versions, up to and including, 1.02. We will naturally try to provide our resellers an updated version of our software for each firmware update, it is in our interest, but we do NOT guarantee that we will be able to do so. All updates will be free."
In case somewhere along the line you've lost track of the point of all of this unlocking and hacking, the purpose of SimFree and other hacks is to allow third-party applications to be installed on the iPhone and let it connect to other GSM wireless carriers. Both of these things are currently not allowed by Apple and AT&T to the dismay of many. So, it looks like the ball is back in Apple's court for the time being until the come out with another update but heck, even though there is no guarantee the updates can be undone this one only took about two weeks and for those with an unlocked iPhone there really isn't a lot of choices. And even though these hacks are interesting and are big news, we're guessing the vast majority of iPhone owners probably consider their new high-tech gadget a little too pricey to muck with like this.
1.1.1, Hacks, iPhone, iPhone firmware, unlocked, updates