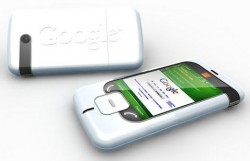 In what is the most solid information we've seen so far amidst a slew of rumors surrounding Google and the potential of a Google Phone, today some reliable sources of Reuters and the WSJ have reported that Google is planning an announcement. Sources say that Google plans to unveil plans for their own mobile phone operation system in mid-November with possible plans to roll it out with an existing mobile phone carrier sometime next year.
For a number of months rumors ran that Google had plans of making its own mobile phone but later the information turned to Google just making mock-ups of mobile phones that would run a Google operating system for an example to carriers and manufacturers. The latest talks is that Google is looking for a carrier who will bring a mobile device to market with the Google OS on it, possibly offering the device or service for free or at a very low cost in turn for users putting up with advertisements on the phone.
Google's overall plan has been to make an open platform for the handset that can handle third party applications to run on it, which is something people seem to badly interested in much to Apple's dismay. However this may be somewhat difficult to get past mobile phone carriers, but Google is reportedly currently in talks with Verizon Wireless who would be a good candidate to launch a mobile device powered by a Google OS in order to compete with AT&T and the wildly popular iPhone from Apple.
Google, Google Phone