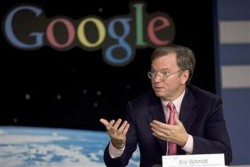 According to a report from the NY Times, Google says that despite extensive rumors of a Google Phone the company does not have plans to make any mobile hardware that would compete with Apple's iPhone or any other mobile device for that matter. Google does confirm however that they have been secretly working on a mobile phone project over the past couple years but targeting advertising and software, not hardware. They also admit to making some mobile phone prototypes, but only for testing and examples to manufacturers.
Google's goal with their mobile phone project is to further extend their reach of online advertising into the mobile internet through mobile phone software. This software would be a Linux based version that would have multiple mobile applications beyond just maps and search, and would compete directly with mobile operating systems such as Windows Mobile from Microsoft.
"The essential point is that Google's strategy is to lead the creation of an open-source competitor to Windows Mobile," said one industry executive, who did not want his name used because his company has had contacts with Google. "They will put it in the open-source world and take the economics out of the Windows Mobile business."
It's still unclear how receptive mobile phone carriers will be to Google's mobile phone platform since they plan to "loosen" some of the carriers control. What is also difficult to predict is if Google will be as successfully with advertising on the mobile internet, although the potential with integrating advertising along with a persons current location via GPS could be very effective.