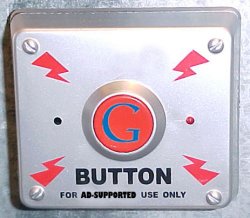 The secret to competing with the iPhone may just be a low price/low tech approach. Last week, Google acquired and got all social with the Finnish start-up Jaiku, holder of key Short Message Service patents. And though Google isn't talking, we know they want advertisers to sponsor Google search results on mobile devices just like on Internet-connected PCs.
Jaiku is of course, key to their strategy. In addition, they also acquired the mobile social network Zingku and expanded "Google SMS," which is a free service that sends answers to texters with questions.
Apparently, their goal is not just world domination. They also want to get device makers to make some basic handsets that would be equipped with a "Gbutton". A magic button that would whisk users off to a Google texting screen. They want texters in the habit of going to their vast database to get the answers they seek. Whether it be phone numbers, movie times or restaurants. And advertisers would sponsor the GPhone delivered answers.
The other key factor in this strategy seems to be price. It would cost a fraction of the price of the iPhone, Blackberry and others. This will be interesting to watch.
But if one uses the GPhone "G" Button, are hotspots replaced with "G" spots?
Google Phone, GPhone