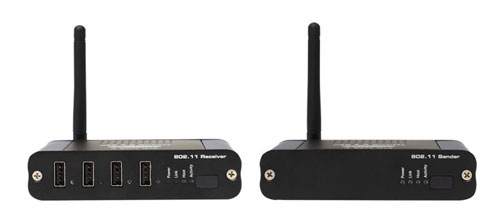 How would you like to be able to use select USB devices a good distance away from your computer? That's the idea behind the new Gefen Wireless USB Extender, priced at around $400.
The Gefen Wireless USB Extender makes use of a sender/receiver system to wirelessly transmit USB 2.0 signals up to 100 feet away. Gefen says it's an ideal solution for those in particular who don't want to run USB cables around the area. It requires no installation of USB drivers and can reportedly deliver data at speeds up to 54 Mbps.
The sender portion of the Extender connects to a computer via a short cable. The receiver portion meanwhile also acts as a four-port hub for support of multiple USB devices. This offering from Gefen should be out now.
Gefen, USB, USB Extender, wireless USB