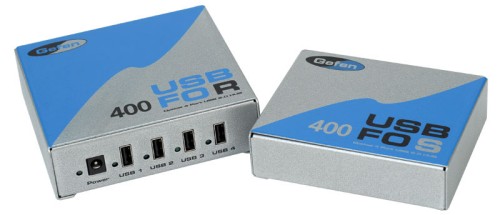 Gone are the days of having your USB devices tethered within the standard 5 meter limit of a USB cable. The Gefen USB 400FO USB extender kit uses fiber optics with full USB 2.0 standard compatibility to stretch the reach of not just one but four USB connections up to 1,650 feet or 500 meters.
The kit comes with two externally powered boxes, the send unit (USB 400FOS) and the receive unit (USB 400FOR). Your computer connects up to four USB cables to the sender unit which sends the signal as far as 500 meters to the receiver unit where it gets converted back to a USB connection to power your RC Car or Missile Launcher from almost a third of a mile away.
Unfortunately the $4,000 per port (yes, that totals almost $10 per foot) that's required to buy the Gefen 4-port USB extender will probably keep you from taking advantage of it for less than critical tasks. That kind of bank really brings you into the realm of a number of alternative and creative solutions, but if it's long-distance USB that you really need then Gefen's got you covered. In case you don't quite need all 500 meters you might want to look into Gefen's wireless USB extender which will span 100 feet for a tenth of the cost.
Gefen USB over Fiber Optic via SlashGear
400FO, Gefen, USB, USB Extender